Syed Razi, MD
Thoracic Surgeon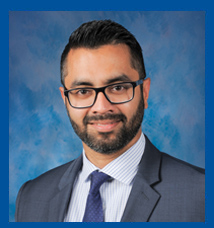 Syed Razi, MD
Dr. Syed Razi is a thoracic surgeon at Memorial Healthcare System. He treats and manages various cancers and other benign illnesses in patients within the chest cavity and the foregut. He is also trained in minimally invasive and robotic surgery.
In addition to providing patient care, Dr. Razi holds active memberships in the American College of Surgeons, Society of Thoracic Surgeons, Eastern Cardiothoracic Surgical Society and Southern Thoracic Surgical Association.
Dr. Razi is the recipient of Ahmad Adaya Cardiothoracic Research Fellowship and American Association for Thoracic Surgery Graham Surgical Robotics Fellowship awards. He has more than 30 publications in peer-reviewed journals and presents his research work at various national general and thoracic surgical forums.
Most recently, his work was nominated as the finalist for the prestigious Walton Lillehei Resident Forum award at the 99th Annual Meeting of American Association for Thoracic Surgery (AATS).